Out of control emotions can make smart people stupid. – Byron Nelson
As a teacher, do you find your students behaving differently or rather weirdly in different situations?
Do you find it hard to understand what caused them to behave like that?
Or does it make you wonder how you could calm them down?
Well, it's something very common to experience in a classroom with such mixed types of students present. But, the cause behind such behaviors is lack of emotional control, which is hardly taught or paid attention to.
So, here are some ways you can understand the emotional state of your student and help them regulate them, as well as help you manage their behavior in the classroom.
ASK QUESTIONS TO UNDERSTAND BEHAVIOR:
It is usual for students to panic and get anxious before an exam, specially for younger students. So, you can ask questions like- "I'm going to distribute test papers in few minutes, how are you feeling? Excited? Nervous? Anxious? Scared?" You can particularly target a student who usually shows anxious behaviour, run around the class and irritate other students etc. E.g. – he says, "I feel anxious before a test and feel like running and throwing pens", when this question is asked.
So, you can answer something like- "Okay, it's fine if you feel anxious and feeling running, but instead of throwing things and creating chaos in class you can go for a run in the ground, it'll help you calm down, and then you can attempt the paper."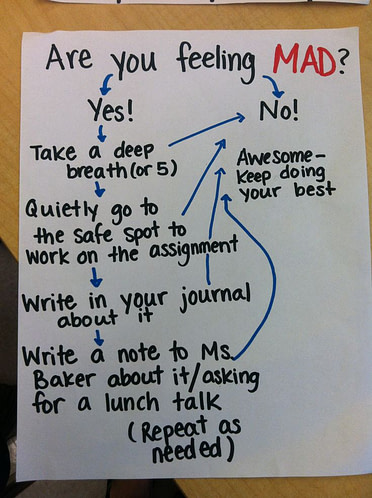 MORNING START WITH SHARING FEELINGS:
Start the day with a feeling sharing ritual, like writing a note or speaking out, where students can share if anything happened at their home in morning or day before, E.g.: fought with their sibling.  They'll be able to pour out their emotions this way and you'd know the reason for their break out if anything happens, so you'd know why they are showing certain behaviour and hence can take measure effectively.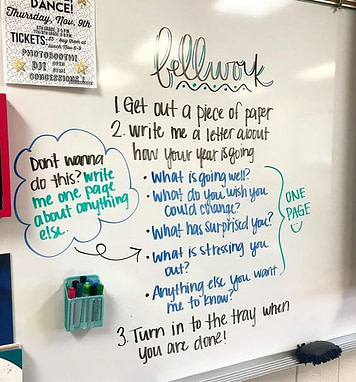 HELP STUDENTS UNDERSTAND THEIR EMOTIONS:
Best way to teach students to regulate their emotions is to make them aware that they are feeling that particular emotion. Then next step would be letting them know what they can do and motivating them to do certain techniques to overcome such feeling. Like, adults know tricks like deep breathing or going for a walk, when they are feeling nervous. You can tell them such tricks which can help them, E.g.: squeeze a toy or have water etc if they are going through anxiety.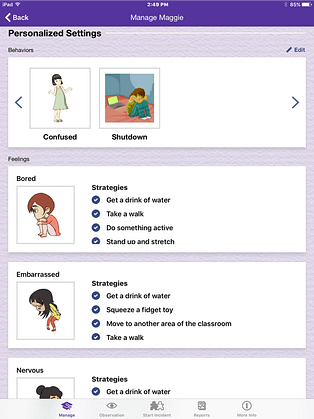 BUILD A WORD WALL:
Put up words with different emotions types. This will not only help students to increase vocabulary, but they'll get to know about various types of emotions and will be able to relate that they are experiencing a particular emotion.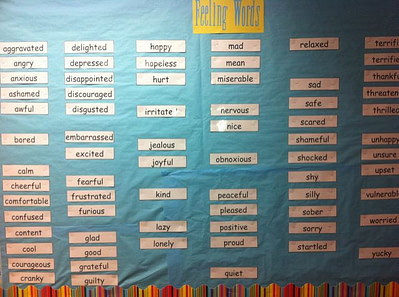 MAKE A COZY CORNER:
Come up with a corner in classroom with pillows and stuff toys, where students can go and relax, read a book and calm down by getting a break from school pressure. It'll help students to control their feelings and get a break from certain stress they're feeling. It can include squeeze toys, gum balls, etc.
TAKE CARE OF THE STRESS:
Make sure that academic pressure is not becoming troublesome for the student leaving them over stressed that they're unable to handle. Sometimes parents expectation and pressure to score well becomes too high leaving students emotionally drained, so it's necessary to let them know that marks are not everything and it's okay if they don't score too well, they'll get many more chances in life. Specially for elder students having board exams have this pressure way too much, which sometimes even leads to suicide attempts.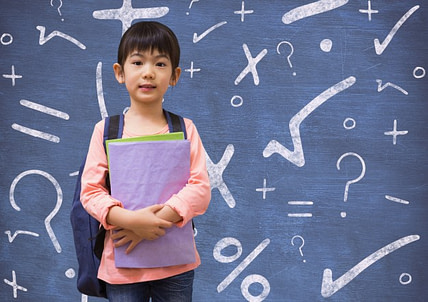 SHARE YOUR OWN FEELINGS:
Sharing your own emotions and feeling with your students from time to time can be a good idea. Through this, students would be able to relate with you, they'll know that you feel that way too and it's okay if they catch certain emotions, nothing is wrong with them. Also, you can share how you got over them and that it was just a phase, they'll understand that these emotions will pass and are temporary and how they can control and manage them under a certain circumstance.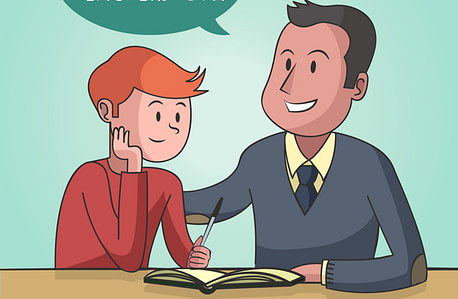 So, we hope these tips would help you understand student's emotion and certain behaviour in various situation or times. Emotional regulation is one of the most important aspects of life which is often neglected but needed to be taught most to have a peaceful mind. These tips would benefit students as well to learn emotional regulation further in life.
For any queries or area, you want us to target, please let us know in the comment section below or contact us directly for guidance or teacher's psychometric tests.